Gunmetal Glass Vase PureBloom Arrangement
PureBlooms are Bullet Bouquets' most perfect expanded hollow point flowers.  They're the result of lots of experimentation, testing, and a complete revamp of processes.  We pair them with custom fused glass vases and fused glass "soil" made by world renowned glass artist, Janet Zambai.  The custom nature of the vases means yours will be one-of-a-kind.  
The 3, 4, and 6 bloom bouquets stand about 4" tall and use a small vase, which has a 2" in diameter and is 1.5" tall.  The one dozen bloom and twenty bloom bouquets stand about 5.5" tall and use a medium vase, which has a 2.5" diameter and is 2.5" tall, with the tallest flowers extending 5.5" above the bottom of the pot.
See our whole selection of PureBloom Glass Vase Bullet Bouquets.  Click here.
Handmade in the USA!  Prices are in USD.
There are two different types of soil to choose from, the standard clear (on the left) or iridescent clear (on the right):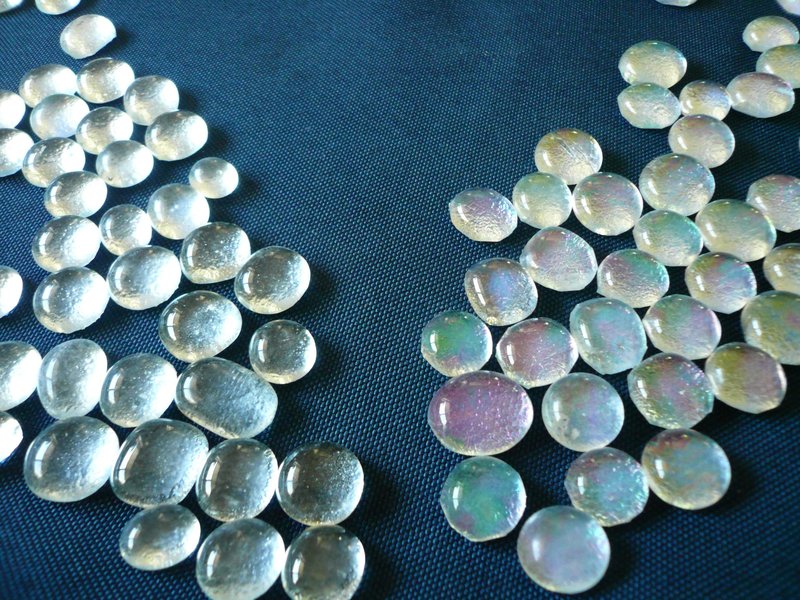 Both types of soil are handmade and beautiful, but the iridescent soil has a striking, colorful shimmer to it. 
Each fused glass vase is a one-of-a-kind work of art, custom made by glass artist Janet Zambai (
her website
).  She's Anthony's mother, and she's had a profound effect on his enthusiasm for artistic expression and entrepreneurship.  The vase color is black with a metallic iridescent coating that is difficult to photograph, but a joy to behold:
Three PureBlooms in a Gunmetal Glass Vase (two .40 S&W and one 9mm):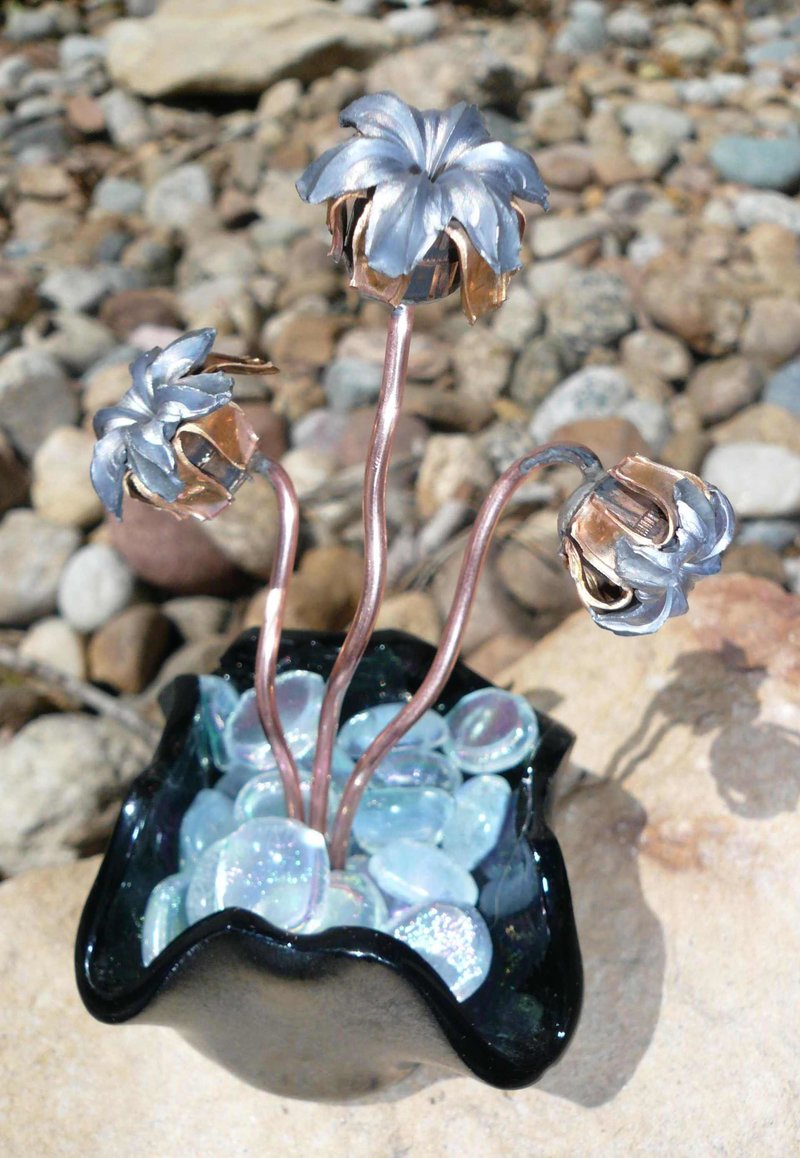 Three PureBlooms in a Gunmetal Glass Vase (all .45 ACP!):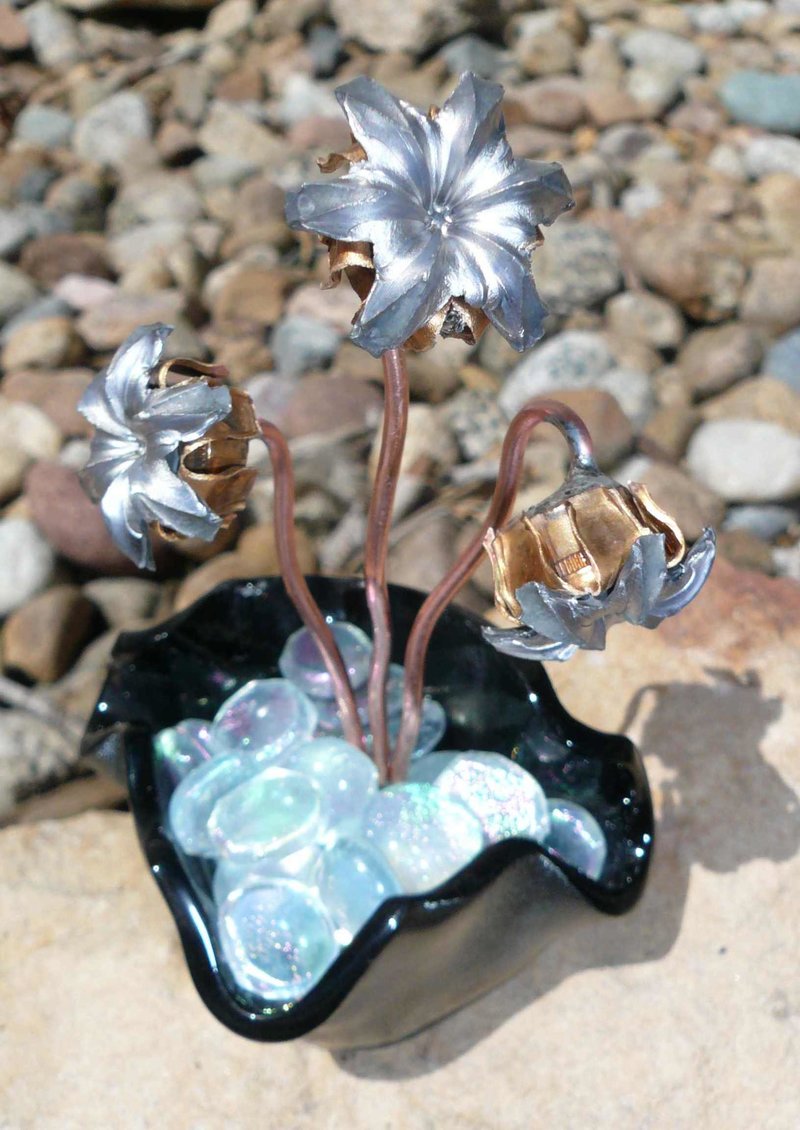 Four PureBlooms in a Gunmetal Glass Vase (two .40 S&W and two 9mm):
Four PureBlooms in a Gunmetal Glass Vase (all .45 ACP!):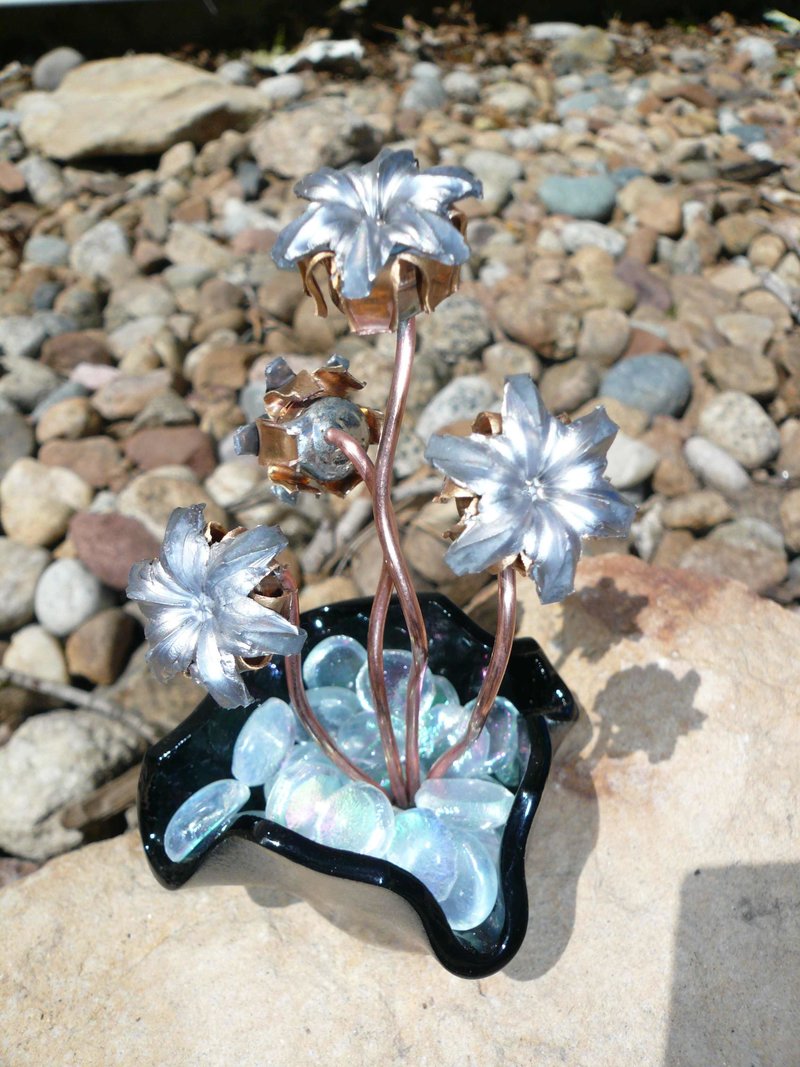 Half Dozen PureBlooms in a Gunmetal Glass Vase (four .40 S&W and two 9mm):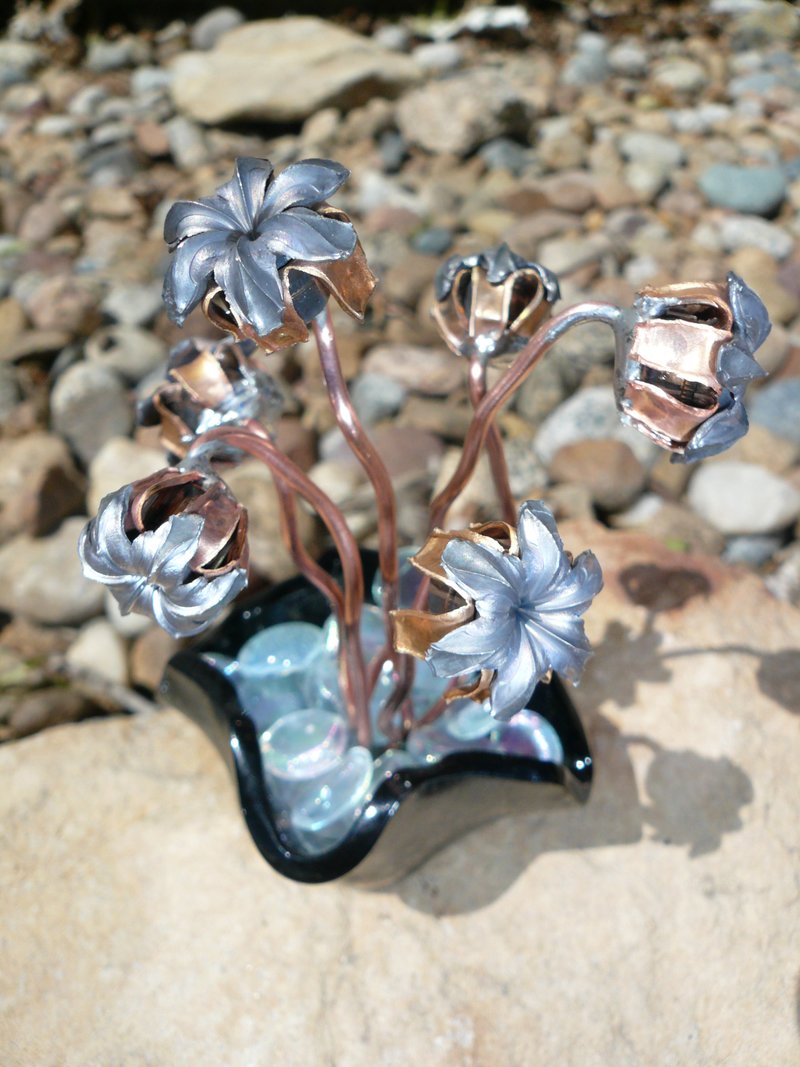 Half Dozen PureBlooms in a Gunmetal Glass Vase (all .45 ACP!):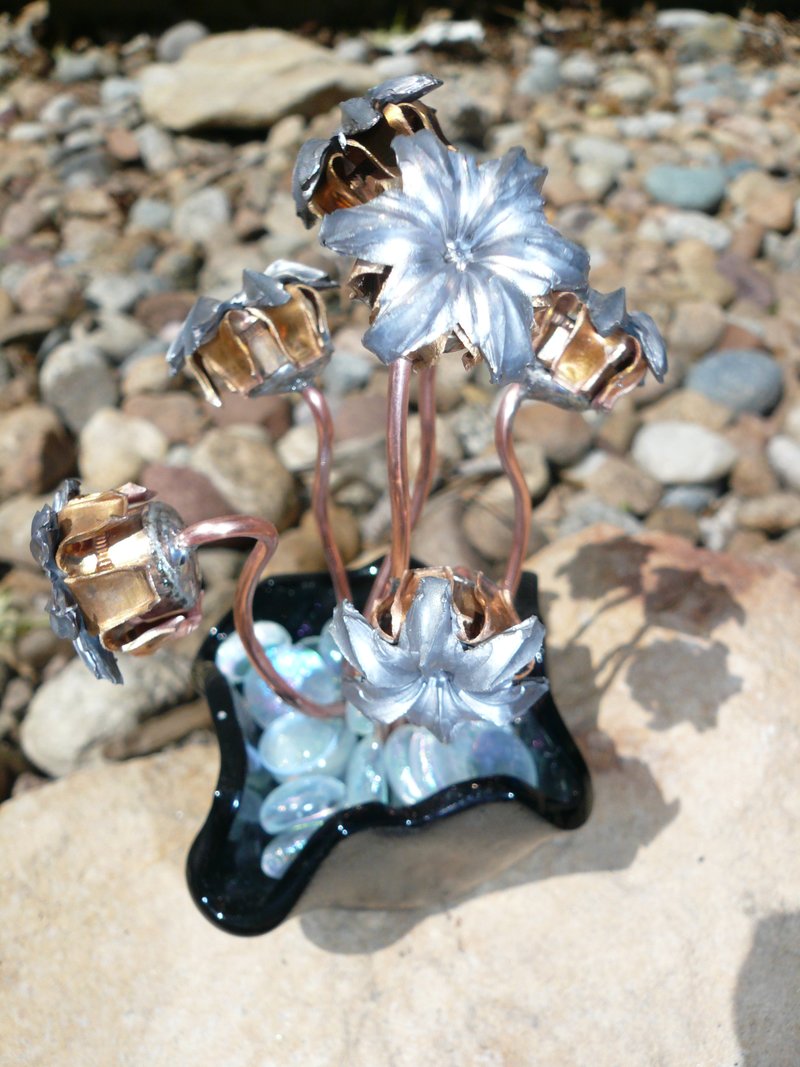 One Dozen PureBlooms in a Gunmetal Glass Vase (six .40 S&W and six 9mm):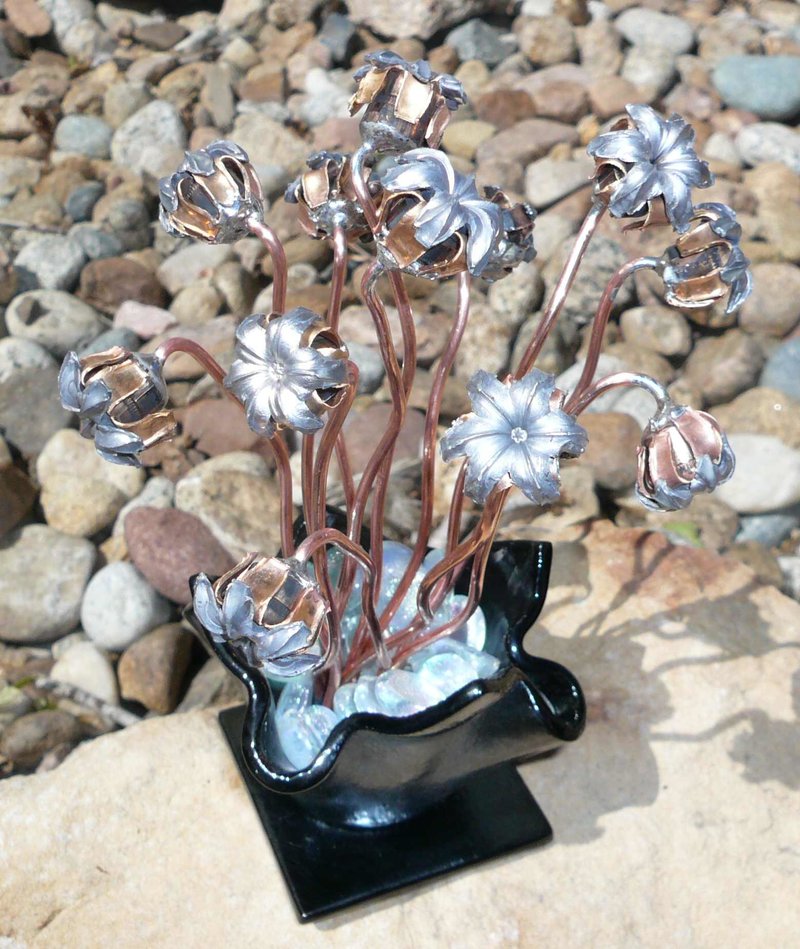 One Dozen PureBlooms in a Gunmetal Glass Vase (all .45 ACP!):
Twenty PureBlooms in a Gunmetal Glass Vase (ten .40 S&W and ten 9mm):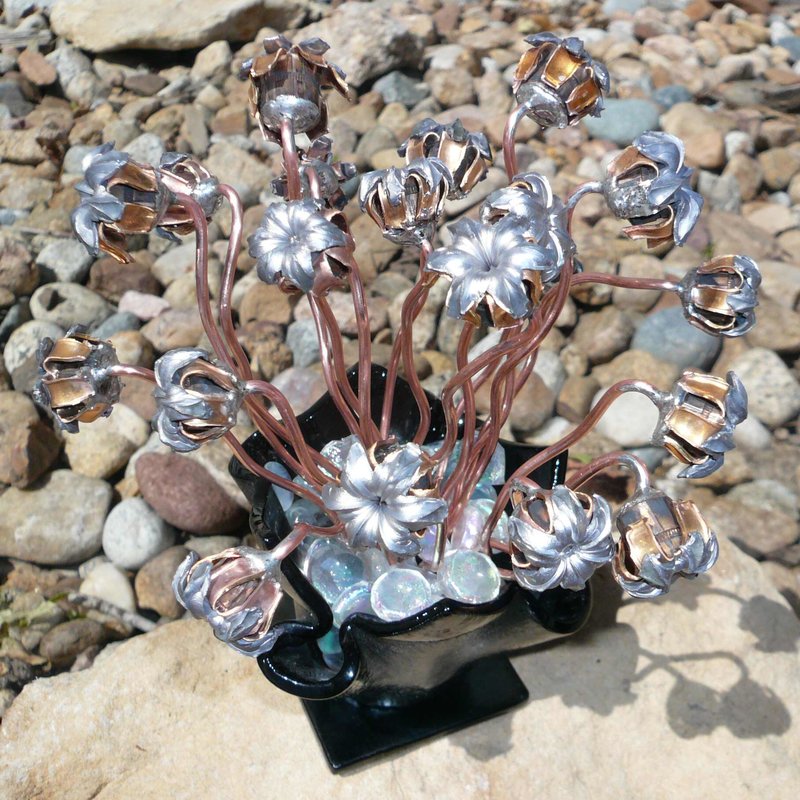 Reviews