.338 Lapua Magnum Bullet Pen (choose one of our designs!)
We ship all bullet pens a maximum of 3 business days after their orders are placed.
We spent a ton of time perfecting our Firing Pens.  We sought out the best ink pen refill for the job, the Zebra 4C, and designed the pen around it.  Not only does the 4C write amazingly well, but it has countless ink and gel color options, as well as line width options.  With so many options, we made sure to make it easy to replace your refill (see video below).

After deciding on the ink refill, we set out to find the right rifle cartridge.  We built several pens in different sized calibers and they were either too big or too small for most hands.  We finally tried the .338 Lapua Magnum, and everyone we handed it to fell in love with it.  Oh and what a great history the .338 LM has.  It was used for the longest confirmed sniper kill in history, and litters the list of longest confirmed kills.  Here's the .338 Lapua Magnum pen next to the venerable "little" .30-06 Springfield: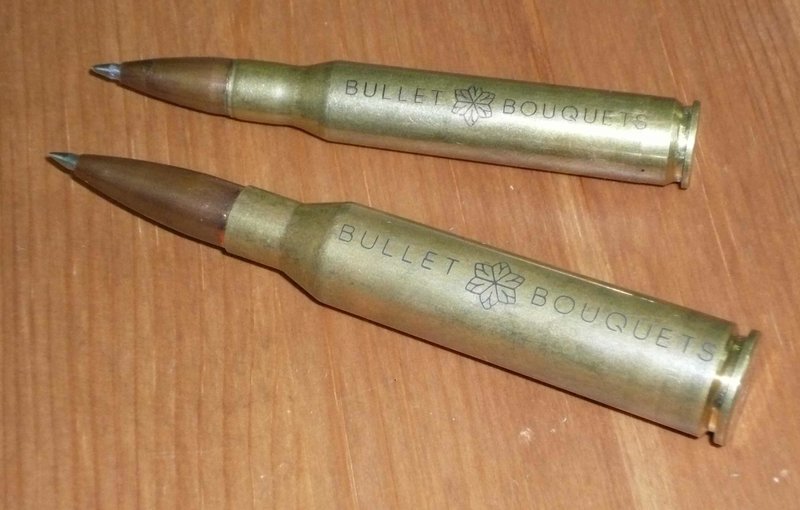 We then sat down to figure out the best way to etch the brass cases.  We came up with a proprietary method of getting bold, matte black images on the brass that not only look great, but they "age" with the rest of the pen, so your pen's appearance will evolve over time into a truly unique piece of art.
Finally, now that we're doing all the engraving ourselves, we have several designs to choose from, at no additional charge!

.338 Pen dimensions are just over 3 3/4" long and over 9/16" in diameter at the base.
Looking to buy these pens in bulk?  Click here!
Handmade in the USA!  Prices are in USD.
Gadsden Flag (Snake wrapped around pen with "Don't Tread on Me" text):
9/11 Never Forget:

3%:

POW-MIA logo:

In a world of compromise, some don't:

The business end of the deal:

The next one has your name on it:

If you love your freedom, thank a veteran:

St. Michael above thin blue line (etching done in blue color):

All Gave Some, Some Gave All, with thin blue line (etching done in blue color):

You give peace a chance, I'll cover you:

Twin Towers skyline (no text):

This is my rifle. This is my gun (with M1 Garand image):

Pew Pew:

Live free or die:

2nd Amendment script:

Give peace a chance:

Stars & Stripes, waving and distressed:

Diplomacy:

Psalm 144:1:

Bible with dog tags:

Right or left handed??  Pens aren't right or left handed!  What sort of tomfoolery is this?
Since we're custom etching the design on each pen, we can tailor the pens specifically to you southpaws out there.  Now your custom message will be readable (not upside down) when you hold the pen in your left hand.  Here's "Mighter than the Sword" in .338 Lapua Magnum, right handed: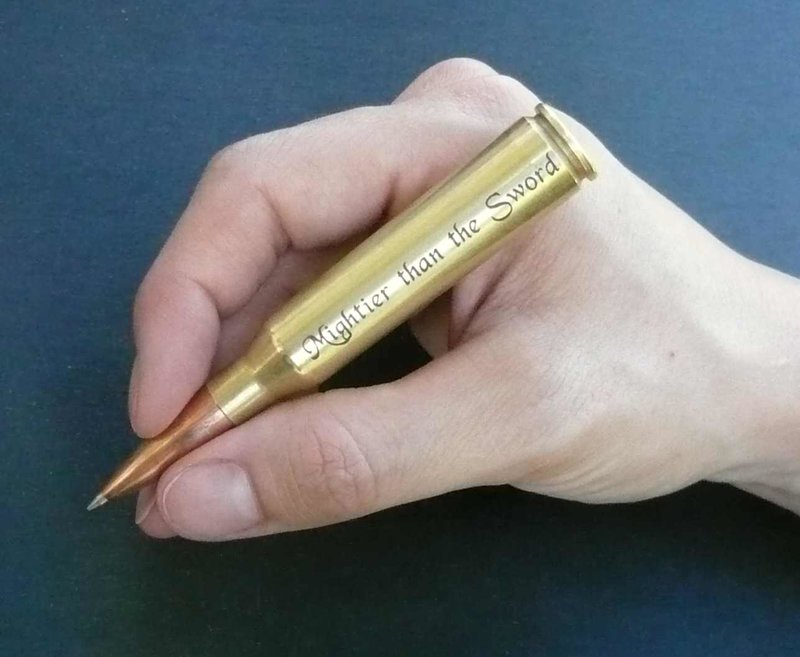 And here's the left handed version: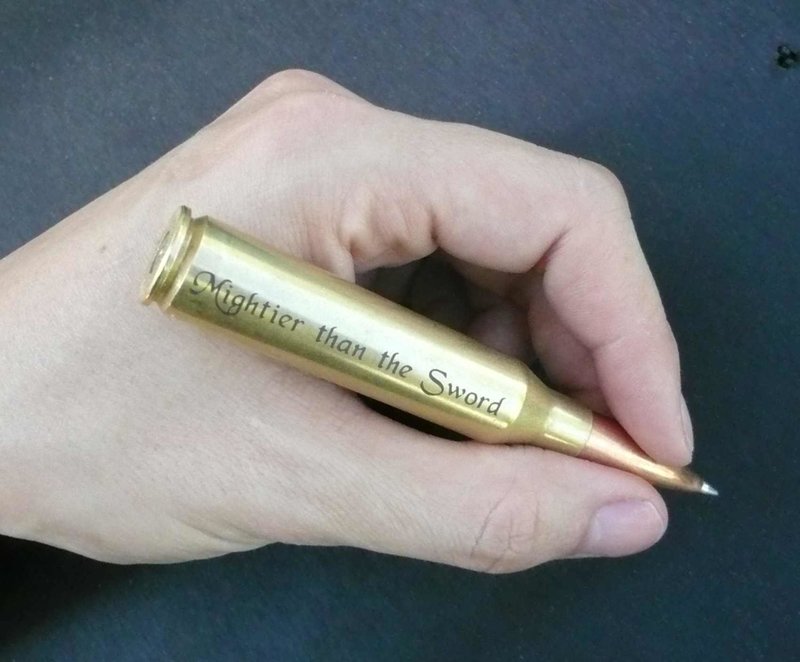 Video instructions on how to change the pen refill:

Font choice examples

Reviews