Bullet Bouquet with Custom Laser Etching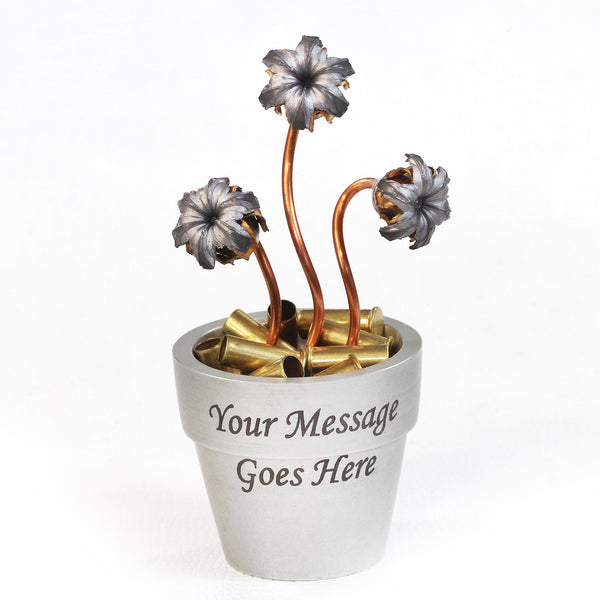 Add any text you like to this bouquet's flowerpot! Start by checking the "Add laser etched text to the flowerpot" checkbox, and continue customizing by typing your text and selecting a font. If you have any questions, please don't hesitate to ask. Check out the far bottom of the page for the font options and some etched flowerpot examples to get your creative juices flowing!

The Three, Four, and Six Bloom Bullet Bouquets use a small flowerpot, which makes the whole piece stand about 4" tall, while the flowerpot is 1.75" in diameter and 2" tall.

The One Dozen and Twenty Bloom Bullet Bouquets use a medium flowerpot, which makes the whole piece stand about 5.5" tall, while the flowerpot is 2.5" in diameter and 2.5" tall.

Handmade in the USA! Prices are in USD.
Best Gift
I bought my bouquet as a 50th birthday gift for my husband. He was thrilled!! He said it was the best birthday gift he has received in years!
I bought one for my
I bought one for my Husband for Father's Day and he loved it! He has it proudly displayed in his gun cabinet.
Good quality, but...
I should've looked at the measurements, but I just didn't realize the bouquet would be THAT small. I'm happy with the product, but I wish you had more say-so in where your words would be placed. I think if I had a better visual of where the words would've been placed, I would've planned it differently. The 1st words you put are the biggest, so "When Daddy" was big and the rest smaller. "didn't have my hand, he had my back." I would've started with the kids' names. Well-built, but it's not even as big as my hand. Just a bit bigger than my palm (flowers included). For the price - I feel like I could've done better. I did upgrade to the aluminum pot, that might be why I felt the financial sting.
Simply fantastic!
It is absolutely gorgeous and the customer care is superb, very friendly and helpful. Thank you!
Husband loved it
My husband loved it. It was a little smaller than I expected. But overall pleased with it.