Where is Bullet Bouquets?
We're in Denver, Colorado.
How quickly do you ship?
We ship all orders placed before noon Mountain Time on the same day they're placed. Orders placed after noon ship out on the next business day. We do not ship on Saturdays, Sundays, or federal holidays.
Typically packages take 1 day to make it one state over, 2 days to go intermediate distances across the country, and 3-4 days to make it to the coasts.
Due to Covid-19, UPS and FedEx are no longer guaranteeing their delivery times. So we are not able to offer any refunds if UPS and FedEx do not deliver on time. We apologize for any inconvenience this may cause.
Firing Pens:
Firing pens are shipped no more than three business days after purchase. Expedited orders (UPS 2nd Day Air / FedEx 2Day and faster) move to the front of the line and are fulfilled before non-expedited orders, but can still require up to three business days to ship. We do not ship on Saturday or Sunday.
Can you ship to countries / states with higher gun restrictions?
We do our best to comply with the myriad of local gun laws, but we may not have everything perfect. If you see a mistake here, or have info to add, Bullet Bouquets will be eternally grateful if you can help with this list. The expanded hollow points don't breach any state laws, even in the most gun restricted areas, like Washington D.C. and California. However, the possession of reloadable components is regulated in some areas, and the "soil" in our flowerpots is .22LR spent cases. Spent .22LR cases are technically reloadable, if someone had way too much time on their hands, so in the states where reloadable ammunition components are heavily regulated, we will puncture the bases of the cases before shipping them.
Which countries will you ship to?
This list is growing, so if your country is not listed, send us a message, and we'll make sure shipping to you won't cause an international incident. We'll then probably add your country to the list and allow you to complete checkout:
Australia
Austria
Belgium
Bulgaria
Canada
Czech Republic
Denmark
Finland
France
Germany
Hong Kong
India
Ireland
Italy
Japan
Mexico
Netherlands
New Zealand
Norway
Spain
Sweden
Switzerland
South Africa
South America
Taiwan
United Kingdom
Do you provide tracking info with your shipments?
Yes, tracking numbers are sent in shipping confirmation emails, which are sent in the afternoon / evening that your package ships. Didn't get your shipping confirmation email? Please check your spam folder, for some reason our shipping confirmation emails often end up there.
How discrete is your packaging?
We ship in simple brown cardboard boxes. "Bullet Bouquets" appears in the business name of the return address on the shipping label.
Can you deliver packages exactly on Valentine's Day?
Due to Covid-19 and the subsequent issues, we cannot deliver packages exactly on Valentine's Day this year. Hopefully next year we can offer this feature again!
Is there lead in these bullets? Are they safe in my home or office?
Yes indeed, these bullets are copper jacketed lead, and after firing through a gun and expanding, the lead is deformed and "turned inside out". We clear coat the lead so it is mostly safe to handle, but we recommend washing your hands after touching it. Also, keep away from children and pets (or anyone who might want to put these flowers in their mouth).
All about the brass "soil" in the flowerpots:
A small bag of soil comes with each Bullet Bouquets arrangement. We use a mixture of .22LR, .22 Short, .22 WMR, and .17 HMR empty brass as soil. It is not glued in place so you can have fun adjusting it.
We've experimented with using different spent brass cases for the soil, but in our opinion, the .22 brass looks far better.
If you are concerned about your bouquet tipping over and the brass spilling out, you do one of two things:
1. Get the billet aluminum flowerpot, because it is heavier than the terracotta flowerpot, and also has a wider base. This gives you a lower center of gravity, and also a more stable platform.
2. Mix up some two-part epoxy and apply tiny amounts to the 10-12 pieces of brass in the very top layer of the soil. You only need to add the epoxy where the top layer touches the soil layer underneath, and a couple of places where it touches the inside of the flowerpot. Your soil is now glued in place!
Can I rearrange the flowers in my flower pot?
You betcha! The copper wire flower stems in your flower pot are quite durable and can take many, many new bends. Having a bad day and don't like your flowers staring at you in the morning? Turn them around one by one and marvel at your ingenuity! The lead flowers are clear coated for your safety, but remember to wash your hands after touching them.
What does the "compliant brass" look like?
We puncture all the .22LR brass cases in international shipments, as well as MA, HI, and DC, rendering them un-reloadable and compliant with local laws. Here's what that brass looks like: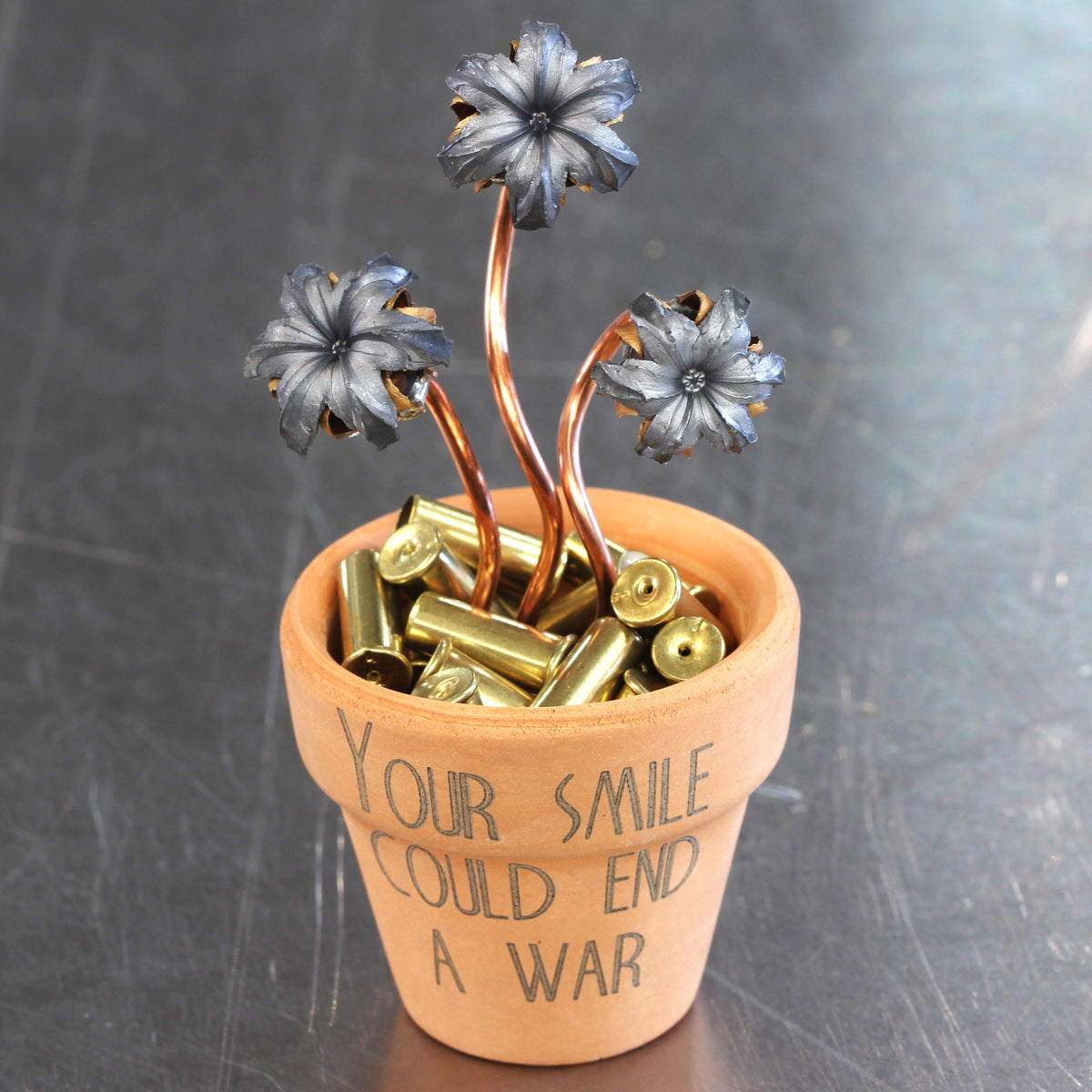 What caliber are these flowers?
We use bullets in 9mm Luger, .40 S&W, and .45 ACP. Each flowerpot has an assortment of those calibers in it, but we put at least one large (.40 or .45) flower in each pot.
How big are the blooms, flowerpots, and vases?
Blooms: The small blooms (9mm) have a 1/2" to 5/8" diameter, the medium blooms (.40 S&W) have a 5/8" to 3/4" diameter, and the large blooms (.45 ACP) have a 3/4" to 7/8" diameter.
Terracotta ana Aluminum Flowerpots:
The 3, 4, and 6 bloom bouquets stand about 4" tall and use a small pot, which has a 1.75" diameter and is 2" tall. The one dozen bloom and twenty bloom bouquets stand about 5.5" tall and use a medium pot, which has a 2.5" diameter and is 2.5" tall. The 36-bloom bouquets stand about 6.5" tall and use a large flowerpot, which has a 3" diameter and is 2.75" tall.
PureBloom Glass Vases:
The 3, 4, and 6 bloom bouquets stand about 4" tall and use a small vase, which has a 2" in diameter and is 1.5" tall. The one dozen bloom and twenty bloom bouquets stand about 5.5" tall and use a medium vase, which has a 2.5" diameter and is 2.5" tall, with the tallest flowers extending 5.5" above the bottom of the pot.
How do I replace the ink refill in my bullet pen?
The refill in your Firing Pen is a Zebra 4C. It comes in several different colors and line widths, in both ink and gel. There's even a pressurized version that writes upside down, similar to the Fisher Space Pen.
My boutonniere doesn't hang right, how can I get it to stand up straight?
We include a safety pin with each boutonniere that's used to support the top. See the video for usage instructions.