1000 Once Fired Premium Nickel Plated Brass Cases (.45 ACP)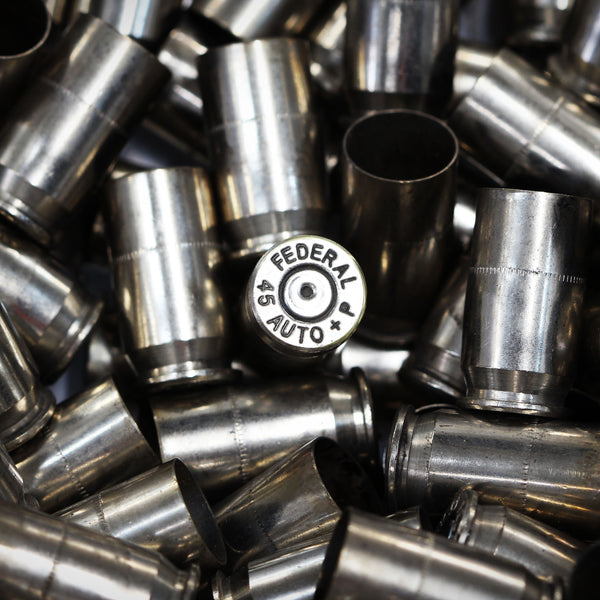 Looking for the good stuff?  You came to the right place!  1000 Once fired, nickel plated premium 9mm brass cases.  Not tumbled, not deprimed.  These are >99% Federal headstamps, with just a few Barnes cases mixed in.  
These are 100% guaranteed to be once-fired, not random pickups from the floor of the local shooting range.  They're shot out of a tight chamber single action gun, so there's no Glock bulge from a loose chamber.  In fact, these cases have never even touched the ground.  There is no finer once-fired brass on the market.  Order with confidence.
US Law prohibits shipping reloadable components outside the United States.
Awesome pistol brass
Thanks so much…brass was as advertised. Once fried, same headstamp, excellent condition. Cleaned up beautifully! I'll be shooting and reloading these for years!
satisfied customer
super fast turnaround, received what was ordered and it was exactly as described, Thank You.
All good
Great value. Fast shipping, Th best, thankyou
Just like the picture
The cases I got were exactly as pictured. I threw them in my case tumbler for and hour and then checked them out and every single one of them was in great condition. None were stepped on or even scratched and they looked like almost new cases. I almost didn't leave a review because I'd like to keep this source of once fired cases all to myself. Everything about bulletbouquets.com is top notch, The price includes shipping and when you factor that in, you can't beat this deal. If you've ever ordered once fired cases from anywhere else, you know that you have to closely inspect them and that you will have to trash some of them because they were picked up off the range floor where they were stepped on and you have no guarantee that those cases haven't already been reloaded 7 or 8 times. These cases don't appear to have even hit the floor and because they're fired specifically to make the bullet bouquets you know they've never been reloaded. What more can I say, I'm saving more money to buy more of them.