The Boom Box, expanded hollow point example set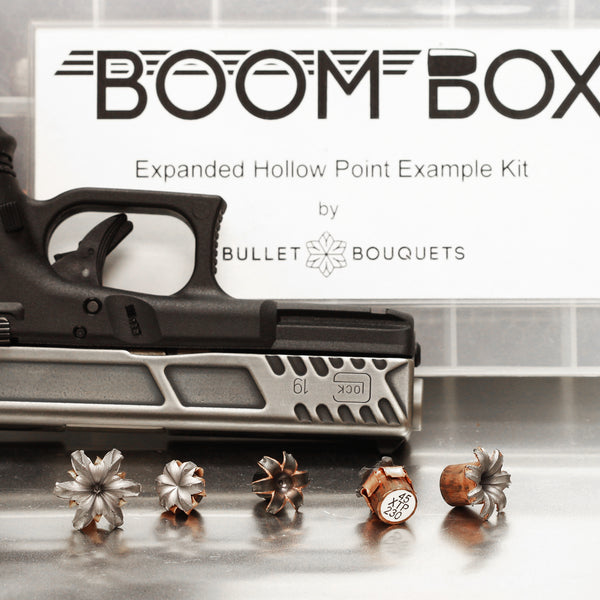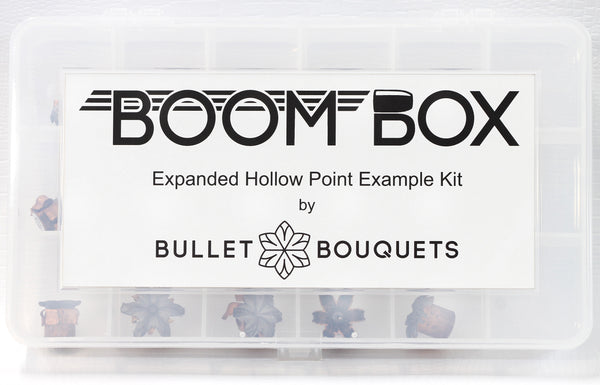 The Boom Box Expanded Hollow Point Example Kit.  In the handy box (8 1/4" X 5" X 1 1/4"), we include fifteen different expanded hollow point bullets.  
Are you an NRA Certified Instructor?  Use the kit to show your students the differences between calibers.  Use it as a conversation starter to get the juices flowing at your classes!

Are you a gun store owner?  Do you find it difficult to explain to customers the differences between bullet brands and calibers?  Use the set to show these differences!

Expanded hollow points included in the kit, each with one 9mm Luger, one .40 S&W, and one .45 ACP:

Barnes TAC-XPD all copper bullets
Federal Premium Ammunition HST bullets
Sig Sauer V-Crown bullets
We carefully control the process to get expansion results that match published data.  Each expanded bullet has a label on the base, indicating the caliber, bullet type, and weight.  They're also clear coated to keep the exposed lead covered and looking great for years.  However, remember to wash hands after handling them.

Handmade in the USA!  Prices are in USD.

Highly recommended product
Very high quality product and great service.
Excellent Resource
I've always wanted something like this to show to people what terminal ballistics actually look like (ideally I know).
Boom Box sample set
I just received your sampler set of expanded bullets for teaching. This is REALLY good. Great tool and great service, I received them within maybe three days of ordering them.
This is going to do very well in my CCW classes.
The "BOOM BOX" Training Kit....
A great! Practical!Realistic " training aid" for Firearms Safety - awareness training classes .. Etc , I teach now PT as a retired LEO were we provide MILO Firearms Interactive Simulator training / and w/options for live range too. And Z pens w/ customized options + more style 4 writing...as a gift etc.. Plan to order more. **** & z "old school" customer service was great!