.50 BMG Bullet Pen (create your own design!)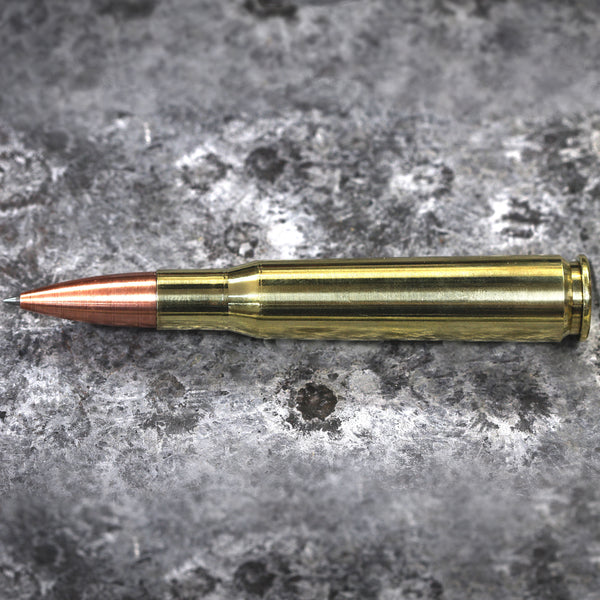 Our Firing Pens in .50 BMG are imposing desk ornaments, and feel great in the hand. They feature replaceable ink refills (see video below for replacement instructions). Choose one of our stock designs, then optionally add initials to personalize it.

Pen dimensions are just over 5 1/2" long and just under 13/16" in diameter at the base.

We ship all bullet pens a maximum of 3 business days after their orders are placed.
Looking to buy these pens in bulk?  Message us here!

Handmade in the USA!  Prices are in USD.
Awesome
Had a custom design and it was phenomenal! Highly recommend these unique gifts:-)
Amazing Work. Amazing Company!!
Anthony, the owner of this fine operation, is amazing. I had a particularly odd request....could he etch in braille (inverted of course)? With out hesitation Anthony got back with me and said yes! That he didn't see why that would be a problem. Anthony went and researched the specs for braille (spacing has to be a certain way) sent me the specs and then got to work on how it would look.
You may ask, why etch a pen with braille for a blind person? The answer is simple, he still has to sign receipts like everyone else and still needs to write his name. He is a gun LOVER and I knew this would be right up his alley.
This particular pen (50 BMG) is a decent weight. Not light but not so heavy that you wouldn't write with it. The ink they chose to use writes very nicely, even for a left handed person.
Moral of the story, if you want this pen and want it etch it can happen. Even if it's braille!
He LOVED it!!!!!!!
I ordered this for my guy and he loves it! It's got a great weight to it. You can tell it's "real" and not some kind of cast imitation.